Kristian Lundquist
CEO & Co-Founder
Kristian, CEO and co-founder, has a Master of Education from Uppsala University, Sweden, starting his professional career as a teacher, he later switched to digital marketing and business development. In 2012 he co-founded Gro Play with Patricia Richter and Henrik Sallander and has been developing edutainment about social topics since. Kristian has co-founded several successful companies and he has more than 20 years of experience of creating engaging content to drive communication and learning.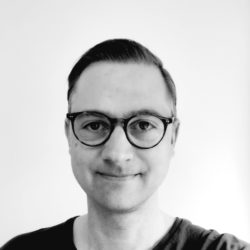 Henrik Sallander
CTO & Co-Founder
Henrik is the CTO and co-founder of Gro Play. He has a Master of Computer Science from Chalmers, Gothenburg and many years of entrepreneurial ventures with various startups and has a deep interest in everything tech and the intersection of web services, music tools and games for a global audience. He loves Gro Play because he believes that educating kids through games is a powerful and effective way to save the world. His favorite game as a kid was Stunt Car Racer on the Amiga, a magical game that, although quite small and simple, gave the player an amazing and staggering feeling of flying around in a stunt car doing incredible jumps.
Lisa Adelskӧld
Head of Pedagogic Content
Lisa is an ecologist with 15 years of experience working with education for sustainable development. Her driving force is to inspire children to learn for a more sustainable future, focusing on action competence. Lisa has been engaged as a lecturer, writer and project leader and joined Gro Play from The Keep Sweden Tidy Foundation, where she was the Educational Director. As Head of Pedagogic Content at Gro Play, Lisa is responsible for developing the content and teacher guides for Grow Play Education games.
Fredrik Winell
Head of Art
Art and games have always been Fredrik's two main tracks and as a hobby these would intertwine back and forth from his childhood. But they didn't quite merge until these past few years. Fredrik's mind is set on saving the world, through the cute, the mundane, the happy, sad and all the important interactions. Maybe not for everyone, but perhaps for someone. He is also comfortable with sounding silly claiming this. As the Head of Art at Gro Play Fredrik loves encouraging the artists to develop and reach their own goals as well as the studio's. But he never hesitates to dig into any part of the projects.
Héloïse Lozano
Game Artist & Producer
Héloïse is a game artist and illustrator who loves to play around with the video game medium to share reflections, little joys and fears, or even just peaceful moments via alternative worlds and installations. She joined Gro Play to make games with a good and constructive impact on kids, and is currently a producer on an upcoming new title. Héloïse is also a member of the Klondike collective, active on the European indie game scene.
Zsombor Nagy
Video Game Programmer
Zsombor started programming as a child on a Commodore 64, then in his teenage years as a big fan of the Monkey Island series, he repeatedly tried (and failed) to build a point and click adventure game. He graduated from the Budapest University of Technology and Economics in 2005, and for several years he gave up his dreams of working in game development until he joined Gro Play in 2014. As a father of two young children, he's getting more and more enthusiastic about educational games. When he is not programming, parenting or playing video games, he likes to sing, play the drums, the guitar and the piano, preferably all at the same time.
Joel Bjӧrkland
Technical Artist
Joel's passion for designing virtual worlds and environments comes to life when he designs playful environments for Gro Play's apps. He is truly a lifelong artist who loves sketching. At Stockholm University Joel studied the Computer Science program, with a focus on game design. When he's not designing gaming environments, he's volunteering at CoderDojo teaching his talents to young minds dreaming of becoming programmers and game developers, or simply taking his gaming talents offline and playing board games
Mohsen Saadatmand
Educational Researcher, Ph.D.
Mohsen Saadatmand is a postdoctoral researcher at the Faculty of Educational Sciences, University of Helsinki. He did his doctoral research on MOOCs (massive open online courses) and the design of open online learning environments. His main research areas are digital learning, online/blended learning design, online courses, and MOOCs. At Gro Play Mohsen is working on digital educational games for teaching and learning STEAM in early childhood education.
We create GOOD GAME experiences
At Gro Play we create GOOD GAME experiences in order to entertain and inspire children and their families to learn more about health, wellbeing and sustainable living. We believe that Play is not only the most fun but also the most powerful way of learning. By entertaining and inspiring children and their parents, together we are shaping a healthier and more sustainable future.
At Gro Play we publish our own titles which are available for a global audience. See our apps here.
We also help brands, companies and organisations develop games and entertainment. Read more about some of the work we have done so far.
Gro Play is a STING alumni and has been part of the Reach for Change program with the aim of helping children and youth to a better life. Gro Play is a proud winner of the Swedish Living Green award 2012.
Our Team
We're hiring
We're always looking for talented people to join our team. Motion Graphics, 2D and 3D animation specialists. Send us an application